Shiba Inu (SHIB) has transformed its breakout into a remarkable rally, continuing to build momentum in the ever-evolving crypto landscape.
The surge has not only captivated the attention of crypto enthusiasts but has also brought a considerable number of meme token holders out of the depths of losses, marking a significant turning point in their investment journey.
With SHIB's current price resting at $0.00001120 per CoinGecko, the token has showcased an impressive 12.5% surge in the past 24 hours, while its seven-day journey witnessed a striking 25.8% increase.
SHIB price action today. Source: Coingecko
The breakout that commenced at $0.000094 has now solidified as a crucial support level, prompting buyers to propel the token's value forward. The bullish sentiment has been unyielding, with sellers seemingly absent from the scene, painting a promising picture for the token's trajectory.
SHIB Targets And Challenges Ahead
While the ongoing momentum keeps the market sentiment upbeat, experts point to the first significant resistance point at $0.0000106. This juncture will likely be closely monitored by traders, as potential sellers could make their presence felt.
#SHIB Penetration of the Shiba candle at the resistance level is a sign of the continuation of the upward trend.
#SHIBUSDT pic.twitter.com/cZ4s0BwOGC

— Andrew Griffiths (@AndrewGriUK) August 11, 2023
If the bullish momentum persists, the next target for SHIB rests at $0.000012. Observing the current price action, the likelihood of SHIB reaching these levels appears favorable, painting a bright outlook for this meme coin.
The transformation in SHIB's fortunes extends beyond price fluctuations. Previously, a prolonged period of time saw over 80% of SHIB holders facing losses. However, recent data from Chain Afirk, an African web3 community on Twitter, indicates a significant shift. 
The market capitalization of Shiba Inu is currently $6.4 billion. Chart: TradingView.com
Approximately 33.03% of SHIB holders have now transitioned into a profitable position, signaling a shift in the memecoin's fortunes. This change not only brings relief to long-time holders but also underlines the growing resilience of the token.
Shiba Inu: The Key NVT Signal
Analyzing the Network Value to Transactions (NVT) signal provides further insights into SHIB's current state. According to Glassnode data cited by a price analysis, the NVT metric has surged to 170.52.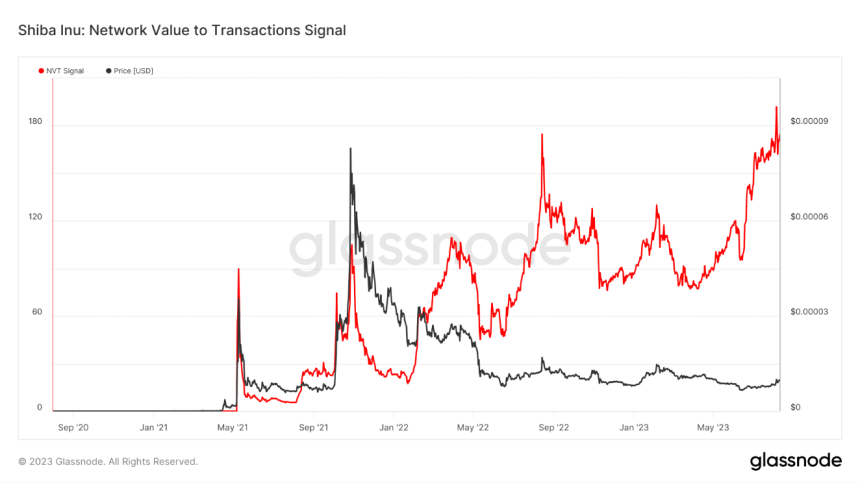 This high NVT signal implies that SHIB's market capitalization has surpassed its transaction volume, potentially pointing to an inflated state. This phenomenon could be indicative of the token reaching a market top, warranting vigilance from investors.
Shiba Inu's breakout has evolved into a rallying force, breathing new life into the meme-inspired token and offering a glimmer of hope to holders. The journey from underwater to profitable has been a notable shift, underscoring the dynamic nature of the cryptocurrency market. 
(This site's content should not be construed as investment advice. Investing involves risk. When you invest, your capital is subject to risk).
Featured image from Getty Images