Blockchain
New Cryptocurrency Releases, Listings & Presales Today – MosesCoin, El Dorado Exchange, Kendoll Janner 
Join Our Telegram channel to stay up to date on breaking news coverage
Newly released crypto assets can offer buyers a higher return on investment (ROI) – today, we review various new coins on the market.
Crypto projects in the AI and finance category dominate today's posts. Although DeFi is plagued by constant exploitation, many new projects still want to give the sector their best. 
Investors can explore new crypto projects featured below to glance at the direction of the crypto industry. 
New Cryptocurrency Releases, Listings & Presales Today
Also, today's new cryptocurrency highlights will delve deeper into the Wall Street Memes presale. Its WSM presale has come a long way since it started a few months ago. There's a need to provide a quick rundown of the grounds it has covered and the future. Investors and traders are invited to join us as we explore the project that might become the king of memecoins. 
1. El Dorado Exchange (EDE)
El Dorado Exchange professes to be the latest trading platform in the DeFi sector. According to the information gathered from its website, the project is designed to provide state-of-the-art tools to traders interested in perpetual and spot trading. The platform further states that it is designed to work with the L2 of the Ethereum blockchain. Moreover, El Dorado Exchange asserts that it is in motion to provide the blockchain community with the most secure and low-cost platform for decentralized trading activities. In doing so, it also promises to maintain a user-friendly interface suitable for all. Its CoinMarketCap page presents additional information, and a bit of it is provided below. 
El Dorado Exchange (EDE) is a decentralized spot & perpetual exchange focused on creating the go-to place on the chain for decentralized trading. Traders can trade up to 50x leverage without slippage, zero spreads, and low fees. Users can mint an ESBT, a Soul Bound NFT, rewarding them for increased interaction with the EDE platform. Liquidity providers provide liquidity using an indexed token, ELP, hedged with stablecoins, earning them trading fees and additional token rewards. EDE also promotes a DAO treasury via EDET.
The EDE token is priced at $0.609894 today with a 24-hours trading volume of $23,305. It ranks at #3888 according to the value of its market cap. However, the exact value is unavailable at the time of writing. The max supply of the token is pegged at 3 million coins, listed on the BaseSwap exchange. 
2. Kendoll Janner (KEN)
Kendoll Janner positions itself as the brazen shitcoin that's out to put an end to the stigma against the degen opportunities. According to its website, the project describes itself as the embodiment of perfection. The token picks a cue from the popular men's dolls to create a sense of taste and splendor. Furthermore, it proclaims that the KEN token is the opportunity its community participants need to end financial despair. The platform makes several other bold promises; more details are available on its CoinMarketCap page. Below are some additional information.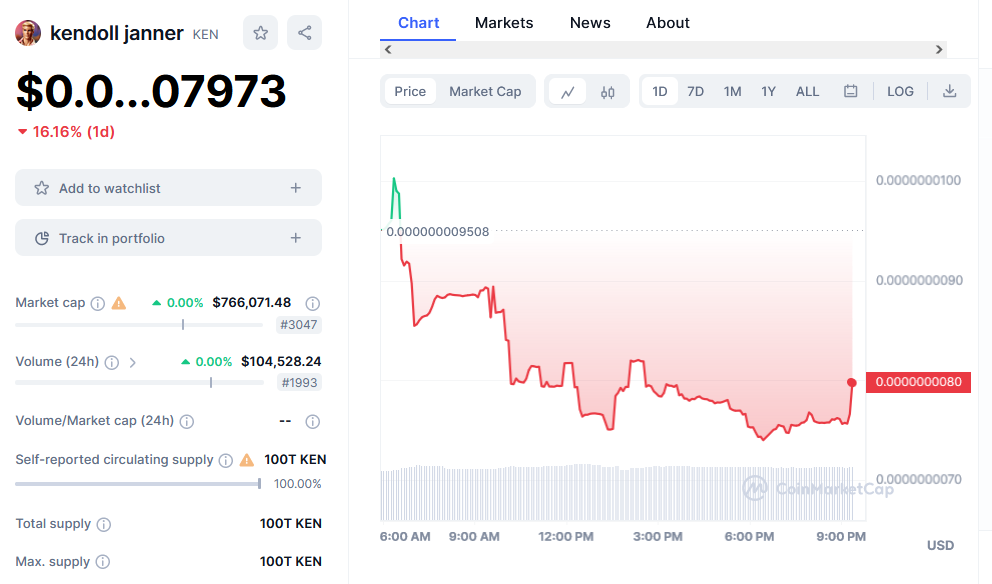 KEN is a decentralized fair launch token with a total supply in circulation. 100% of the supply was added to the liquidity pool, and the LP was burned at launch. The contract has been renounced, which means KEN belongs to the community. With the same ironclad conviction, he applies to his many careers — from master chef to arctic rescuer to literal astronaut — $KEN is a shitcoin maximalist, all the way down to his perfectly chiseled core. Unfazed by bearish winters, he was unwavering in his belief in moonshots. In a world of financial despair, his audacious degeneracy is a beacon of hope for every aspiring shitcoin millionaire. wenmoon? No, sir. #KEnMOON
The new cryptocurrency is traded on Uniswap v2 and listed on CoinMakertCap. It ranks at #3049 based on its market cap. At press time, KEN has a price of $0.000000008763 and a trading volume of $103,514 in the last 24 hours. Furthermore, the maximum supply of the token is fixed at 100,000,000,000,000 KEN coins. Still, the value of its circulation supply is currently unavailable, making it difficult to compute the value of its market cap. 
3. MosesCoin (MOSES) 
MomeseCoin is one of the latest faith-based cryptos on the market. According to the information on its website, it is a community-driven blockchain project built on biblical attributes. The MOSES token serves as the emblem that binds community members together. Furthermore, its website claims that the project would become the path that leads to victory over the influence of governments and government agencies on the crypto sectors and global financial systems generally. Additional information is included in the CMC summary featured below.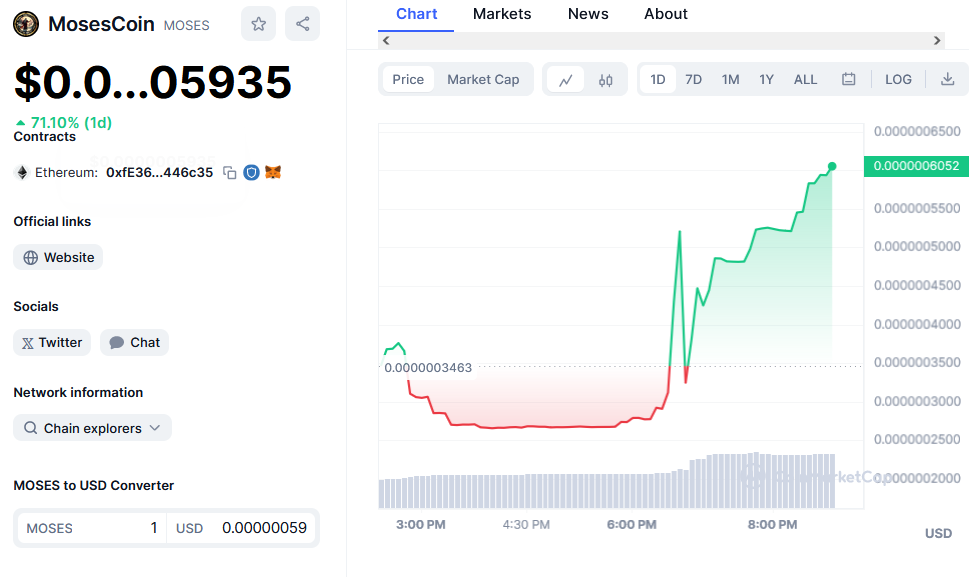 Moses Coin leverages the power of memes, a cultural phenomenon that has become an integral part of our online experience. By combining the humorous and relatable nature of memes with the transformative potential of blockchain technology, Moses Coin seeks to create a vibrant and engaging community. At its core, Moses Coin acts as a catalyst for individuals looking to explore various crypto ventures. Whether you're an aspiring entrepreneur, a seasoned investor, or simply curious about crypto, this project aims to provide a supportive ecosystem for everyone. By harnessing the collective power of its community, Moses Coin aims to foster collaboration, innovation, and growth within the cryptocurrency industry. One of the key aspects of Moses Coin is its commitment to protecting those who have faith in the journey with Moses. 
The price of MOSES today is $0.0000001991, and its 24-hour trading volume amounts to $74,393.31. The current CoinMarketCap ranking is #3227 based on its market cap. At press time, the details of its circulating supply are unknown, but the max supply of the new token is set to 1 billion coins. 
4. InfinityBit Token (IBIT)
The AI sector welcomes the new blockchain project, InfinityBit. The information obtained from its website describes the project as an AI-powered Automated trading system. It claims to leverage proprietary artificial intelligence to provide automated trading tools to users. Furthermore, the project also claims that users can access autonomous trading options through AI-enhanced signals. The platform also goes further to state that users would be able to set parameters to allow AI tools s tools automatically execute trades on their behalf. Overall, the function of the platform is powered by the IBIT token. An excerpt of its CoinMarketCap description is featured below. 
IBIT was initially launched on February 15, 2023, then redeployed on March 20, 2023. InfinityBit Token is an ERC20 token providing access to an AI-powered automated trading system currently in development. Additionally, it will provide reduced trading fees on the InfinityBit exchange. InfinityBit was founded by Alyssa and Stefano, who envisioned a centralized exchange with real-time on-chain settlement capability. The founders are based in Palau and Italy, respectively. The token spawned from the concept that it could benefit people who use the exchange, including reduced trading fees and advanced features. Alyssa has a background in traditional finance and software engineering, whereas Stefano has a background in law and business.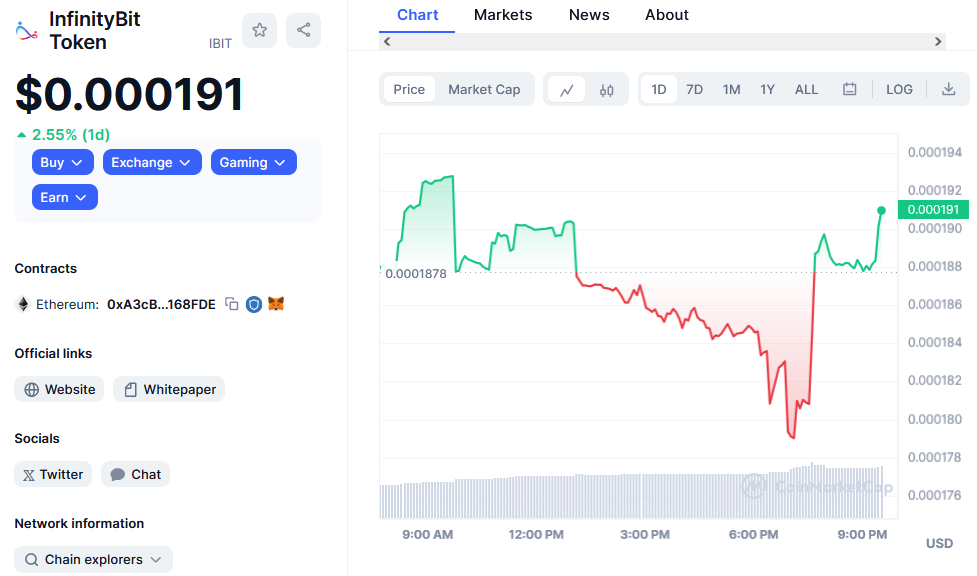 While ranking at #2657 on CoinMarketCap, IBIT still has a price of $0.000382. In addition to its price, it has a trading volume of $203,644 in the last 24 hours. The new token has an unspecified value of Circulating supply, but its max supply is 5,700,000,000 coins. Finally, the new cryptocurrency is listed on Uniswap v2. 
5. Wall Street Memes (WSM)
The long-awaited launch of WSM is drawing closer. Information on the Wall Street Memes presale page reveals that the coin will go live on multiple tier 1 exchanges in less than 39 days. 
A new phase of its presale started recently with $28.9 million as its new target. While the WSM waitlist is already crowded with thousands of investors, there is still room for many more to come on board. 
Interested parties still have the chance to buy into the project at a discounted price. The goal is to reach $30 million, and the coin will be ready to go live on exchanges. 
Low rate mortgage chad pic.twitter.com/v7nxtISTLS

— Wall Street Memes (@wallstmemes) August 18, 2023
Currently, WSM is priced at $0.0337, and the presale is gradually coming to a close with a few milestones. 
Of all the memecoins presales that have gone ahead of Wall Street Memes, only a few have achieved comparable presale results. With its excellent performance at presale, one can only imagine its potential upon listing. 
Visit Wall Street Memes presale.
Read More
Wall Street Memes – Next Big Crypto
Early Access Presale Live Now
Established Community of Stocks & Crypto Traders
Featured on BeInCrypto, Bitcoinist, Yahoo Finance
Rated Best Crypto to Buy Now In Meme Coin Sector
Team Behind OpenSea NFT Collection – Wall St Bulls
Tweets Replied to by Elon Musk
Join Our Telegram channel to stay up to date on breaking news coverage