Blockchain
Kaspa Price Prediction as KAS Strong July Pump Continues But BTC20 Already at $3 Million in Presale
Join Our Telegram channel to stay up to date on breaking news coverage
Kaspa (KAS) is seeing a solid pump in July, boosting its price prediction. With the current momentum, there's potential for continued growth in the near term. Investors are also eyeing BTC20 tokens' impressive presale success, which has already exceeded $3 million. Traders are watching KAS' performance closely to assess its trajectory amid the thriving crypto market.
Currently, Kaspa is priced at $0.03806 with a trading volume of 29.271 million. It has risen by 1.82%. Over the past 30 days, KAS has shown a remarkable surge of 54.16%, while in the last week, it experienced a growth of 9.42%.
Kaspa Stats:
KAS Price – $0.03806
KAS Market cap – $755 Million
KAS Circulating supply – 19,847,386,123 KAS
KAS Total supply – 19,847,386,123 KAS
KAS CoinMarketCap ranking – 209
Key levels to watch for price movements
Take a look at Kaspa's 4-hour chart. It might run into a formidable obstacle at $0.03991 as it increases. But don't worry; if many strong buyers support it, there's a chance for even more gains. Pay close attention to the critical support level at $0.03722; there could be significant losses if it falls below that. However, there's still hope for upward movement even if the support holds steady.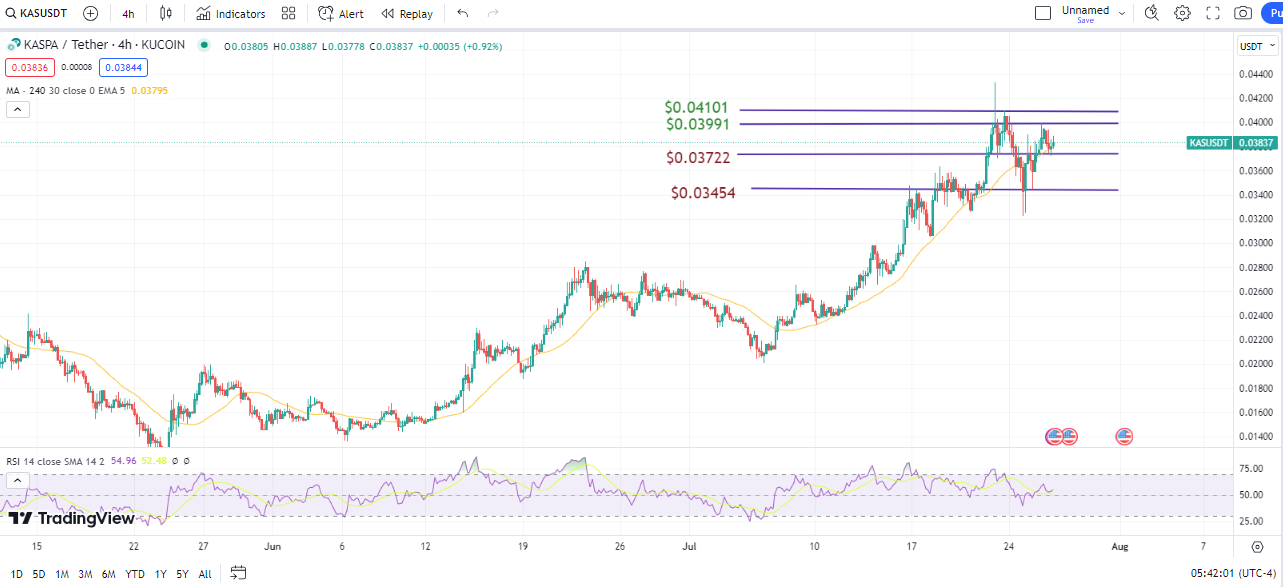 Keep an eye on Kaspa's price range – it's worth watching! If the price stays below $0.03991 and $0.04101, it might face resistance, while support lies at $0.03722 and $0.03454.
In the long term, there's a chance for the price to surge beyond the range, maybe even reaching $0.04020 or more, as long as buyers keep it above the 30-day and 60-day moving averages.
The relative strength index (RSI) for Kaspa is above 50, suggesting a potential price increase soon. But stay cautious! If the price falls below the moving averages, gains could vanish quickly. To protect your profits and limit losses, consider using stop-loss orders.
Alternative Kaspa (KAS)
A new digital token called BTC20 raised $3.366 million in just one week, causing social media excitement. This token is built on the Ethereum blockchain and follows the ERC-20 standard. It gives people a chance to experience what it was like in the early days of Bitcoin when it was valued at only $1 back in 2011.
During the presale, BTC20 tokens are offered at just $1 each, which has led to a rush among investors who want to get in on the action before the project reaches its $4 million minimum funding goal.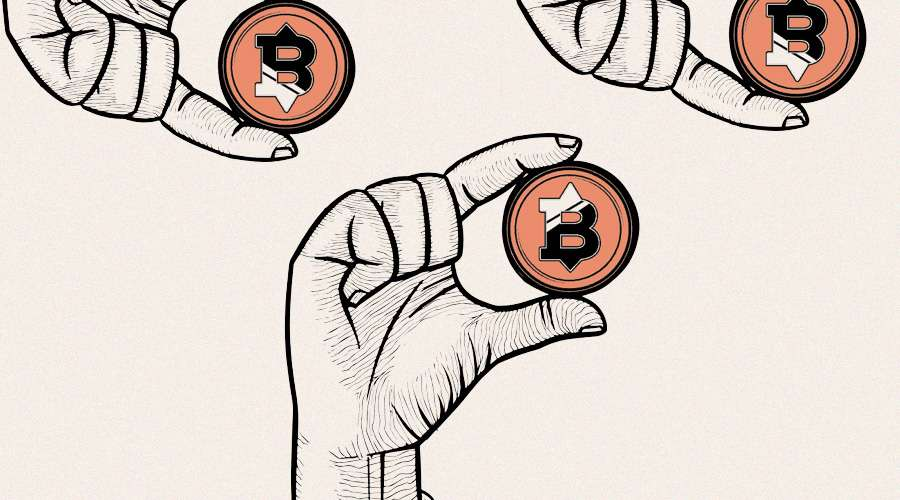 BTC20: Pioneering Sustainable Crypto Gains through Staking
Investors are thrilled about the chance to earn passive income with BTC20. It's similar to how Bitcoin has grown since 2011, but people who hold onto their tokens can be rewarded instead of mining. By staking their tokens, they might earn up to 65% annual interest, encouraging them to keep them and reducing the risk of a significant price drop.
The excitement around BTC20 is spreading like wildfire in the crypto community and even catching the attention of major media outlets like Beincrypto and Cointelegraph. Not to mention, popular YouTuber Jacub Crypto Bury has dubbed it the "next bitcoin." This is making people interested in the token!
BTC20: The Eco-Friendly Alternative to Bitcoin Mining with Higher Rewards
Unlike bitcoin mining, which requires expensive setup and maintenance from a distant company, BTC20 is much simpler. All you need to do is stake your tokens, and the rewards are even higher, thanks to their similarity to how Bitcoin issuance worked back in 2011.
But the best part is that BTC20 has a massive advantage over Bitcoin in terms of being eco-friendly. Bitcoin is known for using a lot of energy and producing a lot of CO2 emissions. On the other hand, BTC20 operates on the Ethereum blockchain, which is much more energy-efficient. After switching to a proof-of-stake system, Ethereum's energy consumption decreased by 99.95%.
So, BTC20 is like a greener version of Bitcoin, which makes it very appealing to investors who care about the environment. It's a unique opportunity to be a part of something eco-conscious while potentially earning rewards.
Visit BTC20 here
Also Read:
Wall Street Memes – Next Big Crypto
Early Access Presale Live Now
Established Community of Stocks & Crypto Traders
Featured on BeInCrypto, Bitcoinist, Yahoo Finance
Rated Best Crypto to Buy Now In Meme Coin Sector
Team Behind OpenSea NFT Collection – Wall St Bulls
Tweets Replied to by Elon Musk
Join Our Telegram channel to stay up to date on breaking news coverage
Source link